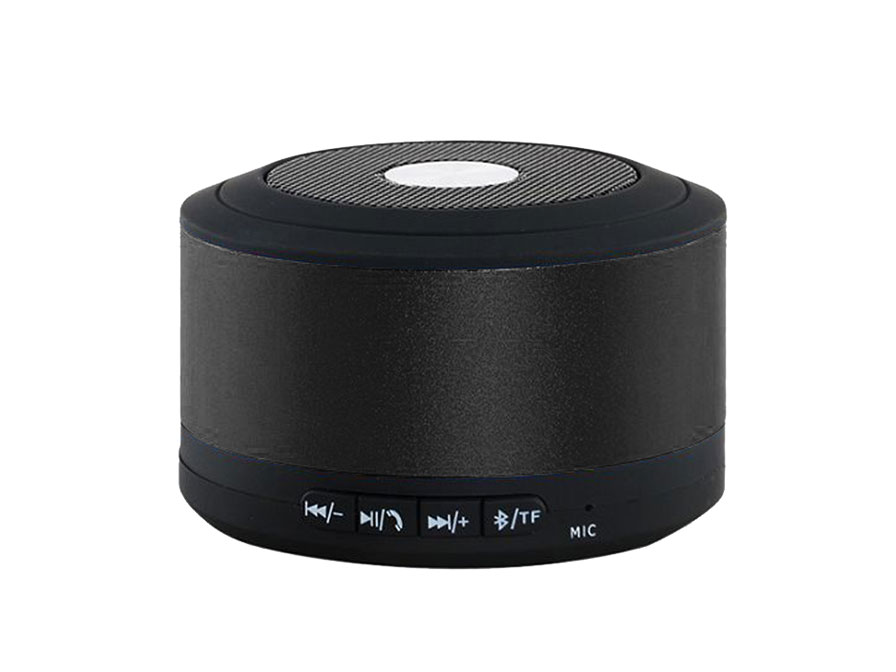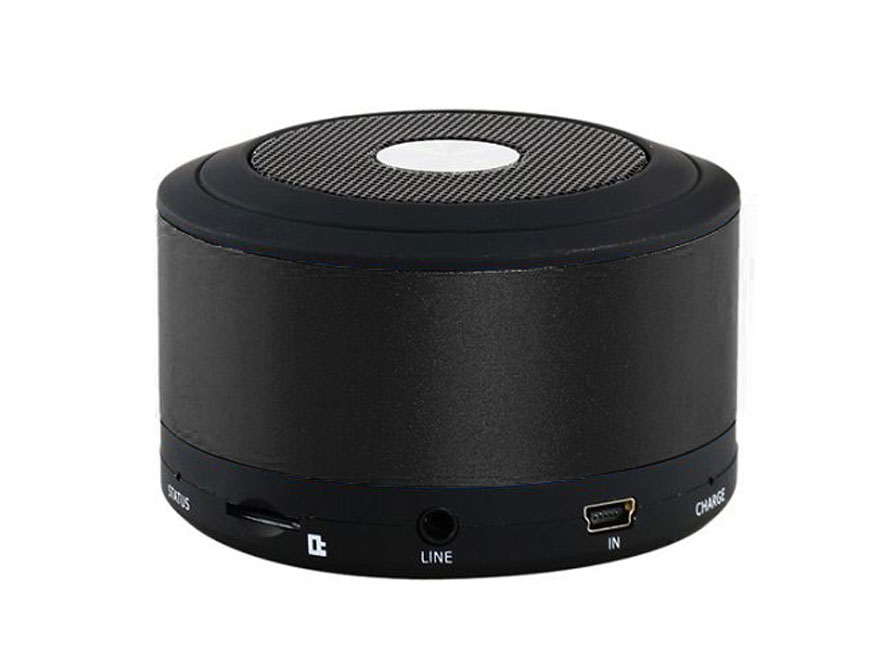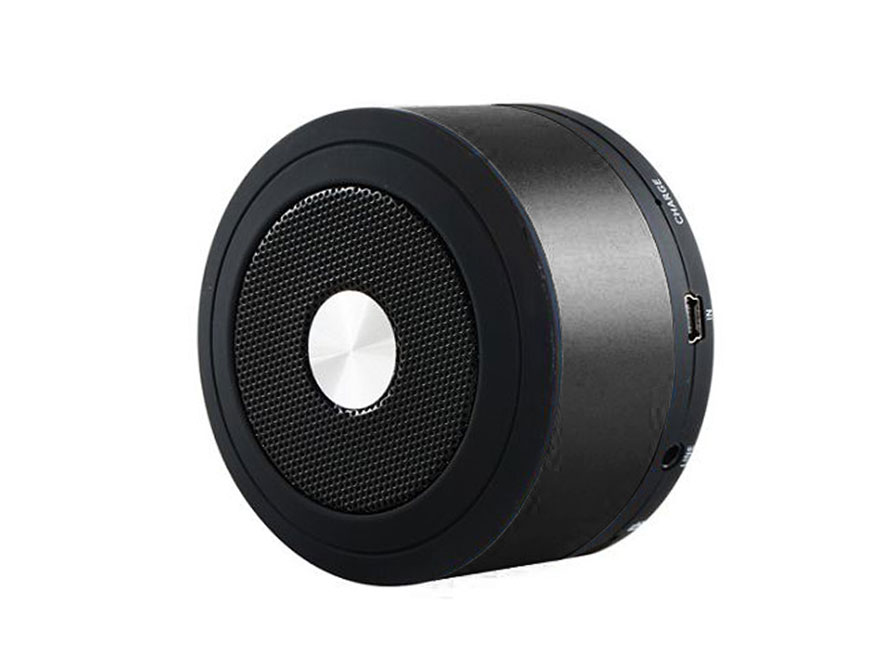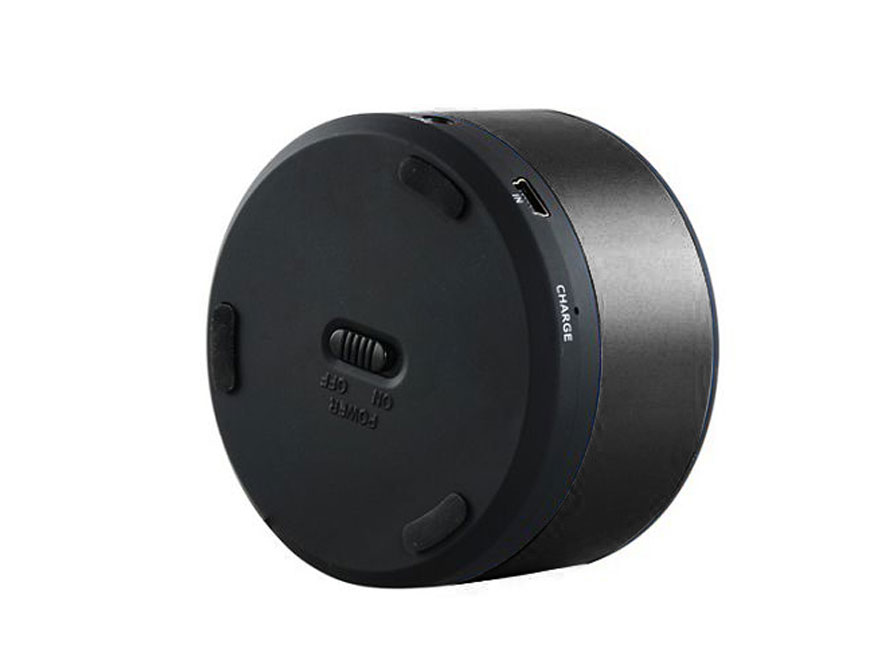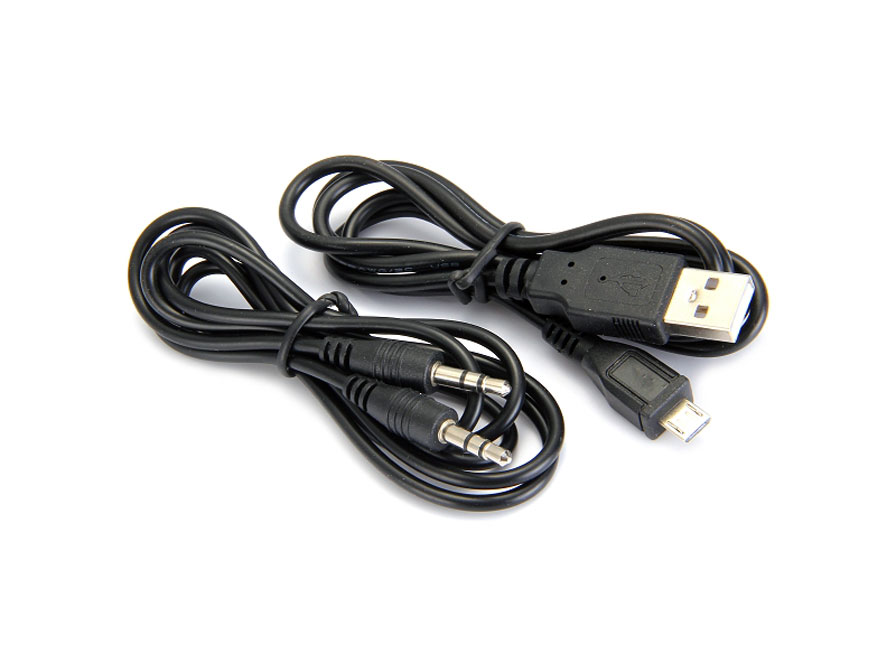 Aluminium Draagbare Bluetooth Speaker
€ 24,99
€ 23,74 vanaf 2 stuks
Omshrijving Whitelabel Speaker
Met deze fraaie Bluetooth speaker speel je op iedere denkbare plek je favoriete muziek af. De speaker is namelijk heel compact van formaat, heeft een interne accu waarmee uren muziek afgespeeld kan worden, en levert een indrukwekkend geluid voor zijn formaat. De speaker is bovendien afgewerkt met aluminium, waardoor deze een luxe uitstraling heeft en bovendien tegen een stootje kan.

De speaker kan via Bluetooth draadloos gekoppeld worden met een iPod, smartphone, tablet of laptop. Dankzij de kleine bedieningsknopjes op de speaker kan de muziek bediend worden of een telefoongesprek opgenomen worden om handsfree te bellen. Handig, want zo kan bijvoorbeeld op het strand de kostbare smartphone veilig in de tas blijven!

Het is ook mogelijk om via de speaker handsfree te bellen. Bedraad muziek afspelen is ook mogelijk dankzij de AUX-in aansluiting. De interne accu van de speaker wordt opgeladen via de meegeleverde USB kabel.
Alle geschikte modellen
Acer
Acer Aspire Switch 10 (SW5-012)
Acer Aspire Switch 10 E (SW3-013)
Acer Aspire Switch 11
Acer Iconia A1-810
Acer Iconia A1-830
Acer Iconia A3
Acer Iconia B1
Acer Iconia B1-710

Acer Iconia One 7
Acer Iconia One 8
Acer Iconia Tab A200
Acer Iconia Tab A500/A501
Acer Iconia Tab A510
Acer Iconia Tab A700
Acer Iconia Tab W500/W501
Acer Iconia W4-820

Acer Liquid Jade
Acer Liquid Z150
Acer Liquid Z200
Acer Liquid Z4
Acer Liquid Z5
Acer Liquid Z500

Alcatel
One Touch Idol
One Touch Idol 2 Mini S
One Touch Idol 2 S
One Touch Idol Ultra
One Touch POP C3
One Touch POP C5

One Touch POP C7
One Touch POP C9
One Touch POP D5
One Touch POP M
One Touch POP S
One Touch POP S3

One Touch POP S7
One Touch POP X
One Touch Scribe HD
One Touch Star

Amazon
Apple
Cinema Display
iMac
iPad 1
iPad 2
iPad 3
iPad 4
iPad 9.7 2017
iPad Air 1
iPad Air 2
iPad mini 1
iPad mini 2
iPad mini 3
iPad mini 4
iPad Pro 12.9
iPhone 1G
iPhone 3G
iPhone 3GS
iPhone 4
iPhone 4S
iPhone 5

iPhone 5C
iPhone 5S
iPhone 6
iPhone 6 Plus
iPhone 6s
iPhone 6s Plus
iPhone SE
iPod 4G/Photo
iPod classic
iPod mini
iPod nano 1e generatie
iPod nano 2e generatie
iPod nano 3e generatie
iPod nano 4e generatie
iPod nano 5e generatie
iPod nano 6e generatie
iPod nano 7e generatie
iPod shuffle 1e generatie
iPod shuffle 2e generatie
iPod shuffle 3e generatie

iPod shuffle 4e generatie
iPod touch 1e generatie
iPod touch 2e generatie
iPod touch 3e generatie
iPod touch 4e generatie
iPod touch 5e generatie
iPod touch 6e generatie
iPod video
Mac Mini
MacBook 12''
MacBook 13''
MacBook 13'' (Aluminium Unibody)
MacBook 13'' (Witte Unibody)
MacBook Air 11''
MacBook Air 13''
MacBook Pro 13''
MacBook Pro 13'' Retina
MacBook Pro 15''
MacBook Pro 15'' Retina
MacBook Pro 17''

Archos
Archos 101 / Arnova 10
Archos 101 G9
Archos 70 E-Reader
Archos 70 Internet Tablet

Archos 70b E-Reader
Archos 70b Internet Tablet
Archos 70d E-Reader
Archos 80 G9

Archos Child Pad
Archos Child Pad 2

Asus
Asus FonePad 3 (ME371MG)
Asus FonePad 7 (ME175CG)
Asus FonePad 7 (ME372CG)
Asus Google Nexus 7
Asus Google Nexus 7 2
Asus MeMO Pad 10
Asus MeMO Pad 7 (ME172V)
Asus MeMO Pad 7 (ME572C)

Asus MeMO Pad 7 (ME70C)
Asus MeMO Pad 8 (ME180A)
Asus MeMO Pad 8 (ME181C)
Asus MeMO Pad FHD10 (ME302C)
Asus MeMO Pad HD7 (ME173X)
Asus MeMO Pad Smart 10 (ME301T)
Asus PadFone 3 Infinity
Asus Transformer Book T200

Asus Transformer Infinity TF700
Asus Transformer Pad TF103C
Asus Transformer Pad TF303
Asus Transformer Prime TF201
Asus Transformer TF101
Asus Transformer TF300T
Asus VivoTab Note 8
Asus VivoTab TF600T

BeBook
BeBook Club

BeBook Club S

BeBook Neo

Blackberry
Blackberry Bold 9000
Blackberry Bold 9700
Blackberry Bold 9780
Blackberry Bold 9790
Blackberry Bold 9900
Blackberry Curve 3G 9300
Blackberry Curve 8110
Blackberry Curve 8310
Blackberry Curve 8520

Blackberry Curve 8900
Blackberry Curve 9220
Blackberry Curve 9320
Blackberry Curve 9360
Blackberry Curve 9380
Blackberry Passport
Blackberry PlayBook
Blackberry Q10
Blackberry Q20

Blackberry Q5
Blackberry Storm 9500
Blackberry Storm2 9550
Blackberry Torch 9800/9810
Blackberry Torch 9860
Blackberry Z10
Blackberry Z30

Honor
Honor 3C
Honor 4X

Honor 6
Honor 6 Plus

Honor 7
Honor Holly

HP Slate
HTC
HTC ChaCha
HTC Desire 200
HTC Desire 300
HTC Desire 310
HTC Desire 320
HTC Desire 500
HTC Desire 510
HTC Desire 516
HTC Desire 601
HTC Desire 610
HTC Desire 620
HTC Desire 626
HTC Desire 700
HTC Desire 816
HTC Desire 820

HTC Desire C
HTC Desire Eye
HTC Desire S
HTC Desire X
HTC Desire Z
HTC EVO 3D
HTC Explorer
HTC Flyer
HTC Google Nexus 9
HTC One M7
HTC One M8
HTC One M9
HTC One M9 Plus
HTC One Mini
HTC One Mini 2

HTC One S
HTC One SV
HTC One V
HTC One X
HTC One X+
HTC Radar
HTC Rhyme
HTC Sensation (XE)
HTC Sensation XL
HTC Titan
HTC Wilfire S
HTC Windows Phone 8S
HTC Windows Phone 8X

Huawei
Huawei Ascend G510
Huawei Ascend G525
Huawei Ascend G6
Huawei Ascend G6 4G
Huawei Ascend G610
Huawei Ascend G620s
Huawei Ascend G630
Huawei Ascend G7
Huawei Ascend G700
Huawei Ascend G750

Huawei Ascend Mate
Huawei Ascend Mate 7
Huawei Ascend P6
Huawei Ascend P7
Huawei Ascend P7 Mini
Huawei Ascend W1
Huawei Ascend W2
Huawei Ascend Y210
Huawei Ascend Y300
Huawei Ascend Y330

Huawei Ascend Y530
Huawei Ascend Y540
Huawei Ascend Y550
Huawei MediaPad 10 FHD
Huawei MediaPad 7 Vogue
Huawei MediaPad X1
Huawei P8
Huawei P8 Lite

Kobo
Kobo Arc
Kobo Aura

Kobo Aura H2O
Kobo Aura HD

Lenovo
Lenovo Yoga Tablet 2 10.1

Lenovo Yoga Tablet 2 13.3

LG
LG F60
LG G Pad 8.3
LG G2
LG G2 Mini
LG G3
LG G3 S
LG G4
LG G4 Stylus
LG G4c
LG Joy
LG L Bello
LG L Fino
LG L40

LG L70
LG L90
LG Leon
LG Nexus 4 (E960)
LG Nexus 5
LG Optimus 2X (P990)
LG Optimus 3D (P920)
LG Optimus 3D Max (P720)
LG Optimus 4X HD (P880)
LG Optimus Black (P970)
LG Optimus F5 (P875)
LG Optimus G (E975)
LG Optimus G Pro (E985)

LG Optimus L3 (E400)
LG Optimus L3 II (E430)
LG Optimus L4 II (E440)
LG Optimus L5 (E610)
LG Optimus L5 II (E460)
LG Optimus L5 II Dual (E455)
LG Optimus L7 (P700)
LG Optimus L7 II (P710)
LG Optimus L7 II Dual (P715)
LG Optimus L9 (P760)
LG Optimus Vu (P895)
LG Prada 3.0 (P940)
LG Spirit

Microsoft
Microsoft Lumia 435
Microsoft Lumia 532
Microsoft Lumia 535
Microsoft Lumia 640

Microsoft Lumia 640 XL
Surface 2
Surface Pro
Surface Pro 2

Surface Pro 3
Surface RT

Motorola
Motorola Moto E
Motorola Moto E2 (2015)
Motorola Moto G
Motorola Moto G 4G

Motorola Moto G2 (2014)
Motorola Moto X
Motorola Moto X 2014 (2nd gen)
Motorola Nexus 6

Motorola RAZR
Motorola Xoom
Motorola Xoom 2

Nokia
Nokia 700
Nokia 808 Pureview
Nokia E6
Nokia E7
Nokia Lumia 1020
Nokia Lumia 1320
Nokia Lumia 1520
Nokia Lumia 2520
Nokia Lumia 510
Nokia Lumia 520

Nokia Lumia 530
Nokia Lumia 610
Nokia Lumia 620
Nokia Lumia 625
Nokia Lumia 630
Nokia Lumia 635
Nokia Lumia 710
Nokia Lumia 720
Nokia Lumia 735
Nokia Lumia 800

Nokia Lumia 820
Nokia Lumia 830
Nokia Lumia 900
Nokia Lumia 920
Nokia Lumia 925
Nokia Lumia 930
Nokia N9
Nokia X
Nokia XL

Pocketbook
Samsung
Samsung Ativ S i8750
Samsung Ch@t 335 S3350
Samsung ChromeBook
Samsung Galaxy A3 2015
Samsung Galaxy A5 2015
Samsung Galaxy A7 2015
Samsung Galaxy Ace
Samsung Galaxy Ace 2
Samsung Galaxy Ace 3
Samsung Galaxy Ace 4
Samsung Galaxy Ace Duos
Samsung Galaxy Ace Plus
Samsung Galaxy Ace Style
Samsung Galaxy Alpha
Samsung Galaxy Apollo i5800
Samsung Galaxy Beam
Samsung Galaxy Chat B5330
Samsung Galaxy Core
Samsung Galaxy Core 2
Samsung Galaxy Core 4G
Samsung Galaxy Core Plus
Samsung Galaxy Core Prime
Samsung Galaxy E5
Samsung Galaxy E7
Samsung Galaxy Europa
Samsung Galaxy Express
Samsung Galaxy Express 2
Samsung Galaxy Fame
Samsung Galaxy Fame Lite
Samsung Galaxy Gio
Samsung Galaxy Grand Neo
Samsung Galaxy Grand Neo Plus
Samsung Galaxy Grand Prime
Samsung Galaxy J1 2015
Samsung Galaxy J5 2015
Samsung Galaxy K Zoom
Samsung Galaxy M Pro
Samsung Galaxy Mega 6.3
Samsung Galaxy Mini

Samsung Galaxy Mini 2
Samsung Galaxy Nexus
Samsung Galaxy Note 1
Samsung Galaxy Note 10.1
Samsung Galaxy Note 10.1 2014
Samsung Galaxy Note 2
Samsung Galaxy Note 3
Samsung Galaxy Note 3 Neo
Samsung Galaxy Note 4
Samsung Galaxy Note 8.0
Samsung Galaxy Note Edge
Samsung Galaxy NotePRO 12.2
Samsung Galaxy Pocket
Samsung Galaxy Pocket 2
Samsung Galaxy Pocket Neo
Samsung Galaxy Premier
Samsung Galaxy R
Samsung Galaxy S
Samsung Galaxy S Advance
Samsung Galaxy S Duos
Samsung Galaxy S Plus
Samsung Galaxy S WiFi 4.2
Samsung Galaxy S2 i9100
Samsung Galaxy S2 Plus i9105
Samsung Galaxy S3
Samsung Galaxy S3 Mini
Samsung Galaxy S3 Mini VE
Samsung Galaxy S3 Neo
Samsung Galaxy S4
Samsung Galaxy S4 Active
Samsung Galaxy S4 Mini
Samsung Galaxy S4 Zoom
Samsung Galaxy S5
Samsung Galaxy S5 Active
Samsung Galaxy S5 Mini
Samsung Galaxy S5 Neo
Samsung Galaxy S5 Plus
Samsung Galaxy S6
Samsung Galaxy S6 Edge

Samsung Galaxy S6 Edge Plus
Samsung Galaxy Star
Samsung Galaxy Tab 10.1
Samsung Galaxy Tab 10.1v
Samsung Galaxy Tab 2 (10.1)
Samsung Galaxy Tab 3 10.1
Samsung Galaxy Tab 3 7.0
Samsung Galaxy Tab 3 8.0
Samsung Galaxy Tab 3 Kids
Samsung Galaxy Tab 3 Lite
Samsung Galaxy Tab 4 10.1 (VE)
Samsung Galaxy Tab 4 7.0
Samsung Galaxy Tab 4 8.0
Samsung Galaxy Tab 7.0 P1000
Samsung Galaxy Tab 7.0 Plus
Samsung Galaxy Tab 7.7
Samsung Galaxy Tab 8.9
Samsung Galaxy Tab S 10.5
Samsung Galaxy Tab S 8.4
Samsung Galaxy TabPRO 10.1
Samsung Galaxy TabPRO 12.2
Samsung Galaxy TabPRO 8.4
Samsung Galaxy Trend
Samsung Galaxy Trend 2
Samsung Galaxy Trend Lite
Samsung Galaxy Trend Plus
Samsung Galaxy TXT
Samsung Galaxy W i8150
Samsung Galaxy Xcover
Samsung Galaxy Xcover 2
Samsung Galaxy Y
Samsung Galaxy Y Duos
Samsung Galaxy Young
Samsung Galaxy Young 2
Samsung Google Nexus 10
Samsung Omnia W i8350
Samsung Star II
Samsung Wave 3

Sony
Sony Reader PRS-350
Sony Reader PRS-650
Sony Reader PRS-T1
Sony Reader PRS-T2
Sony Reader PRS-T3
Sony S Tablet
Sony Xperia acro S
Sony Xperia C
Sony Xperia E
Sony Xperia E1
Sony Xperia E3
Sony Xperia E4
Sony Xperia E4g
Sony Xperia go
Sony Xperia ion HSPA
Sony Xperia J
Sony Xperia L
Sony Xperia M

Sony Xperia M2
Sony Xperia M4 Aqua
Sony Xperia miro
Sony Xperia P
Sony Xperia S
Sony Xperia SL
Sony Xperia Sola
Sony Xperia SP
Sony Xperia T
Sony Xperia T3
Sony Xperia Tablet Z
Sony Xperia Tablet Z2
Sony Xperia tipo
Sony Xperia tipo dual
Sony Xperia TX
Sony Xperia U
Sony Xperia V
Sony Xperia Z

Sony Xperia Z Ultra
Sony Xperia Z1
Sony Xperia Z1 Compact
Sony Xperia Z2
Sony Xperia Z3
Sony Xperia Z3 Compact
Sony Xperia Z3 Plus
Sony Xperia Z3 Tablet Compact
Sony Xperia Z5
Sony Xperia Z5 Premium
Sony Xperia ZR
SonyEricsson Xperia Arc
SonyEricsson Xperia Arc S
SonyEricsson Xperia Mini
SonyEricsson Xperia Mini Pro
SonyEricsson Xperia Ray

Toshiba
Toshiba AT200

Toshiba AT300

Yarvik
Yarvik TAB210 7
Yarvik TAB211 7
Yarvik TAB220 GoTab Velocity 7
Yarvik TAB224 GoTab Velocity 7
Yarvik TAB250 7
Yarvik TAB260 GoTab Velocity 7
Yarvik TAB264 GoTab Velocity 7

Yarvik TAB274 Luna 7
Yarvik TAB275 GoTab Ion 7
Yarvik TAB310 8
Yarvik TAB360 GoTab Gravity 8
Yarvik TAB411 GoTab Slimline 10
Yarvik TAB424 GoTab Xerios 10
Yarvik TAB450 GoTab Slimline 10

Yarvik TAB460 GoTab Xerios 10
Yarvik TAB461 GoTab Xerios 10
Yarvik TAB462 Zania 10
Yarvik TAB464 GoTab Xerios 10
Yarvik TAB474 Luna 10

Eigenschappen Speaker
| | |
| --- | --- |
| Artikelcode | 29284 |
| EAN | 8719657056354 |
| Merk | CaseBoutique |
| | Zwart |
| | Bluetooth, 3,5mm line-in |
| | Interne accu, te laden via USB kabel |
In de verpakking
1 x Aluminium Bluetooth Speaker, 1 x AUX kabel, 1 x USB kabel